Three 10th grade students from our Wuhan campus recently received word that they were awarded for their efforts in the Royal Society of Chemistry Rising Star China Chemistry Challenge. The competition is a team-based competition that includes preliminary and final tests. Cindy Chen and Becky Zhao, both together on a team, received Bronze Awards, placing them in the national top 30%. Megan Huang received the Regional Outstanding Award.
On December 10th, schools throughout China gathered students together to compete in local high schools for the Chemistry Challenge. Working in groups of 4, students had 1 hour to answer as many questions possible from a bank of 100 questions.
"Becky and I were on a team. We chose our own team. I chose my friend and Becky chose her friend. Our teammates were really good at Chemistry. We especially helped with the English translation," said Cindy.
The students felt the pressure of time throughout the hour. If they answered a question incorrectly, they would lose points. Students were allowed a hard copy of an English dictionary. "The problems were really hard and the time was really short. If I couldn't find a word in a short time I would feel really nervous," Megan said.
The three girls discussed their different attitudes toward mathematics and sciences. For Megan, Chemistry was her best subject in middle school and she wanted to push herself. Cindy wanted to especially use her English skills. "I think I needed to try this competition. I'm not very good at math, so with teamwork I thought we could help each other and we could work together." One of Cindy's primary jobs was helping to understand the English vocabulary in the questions.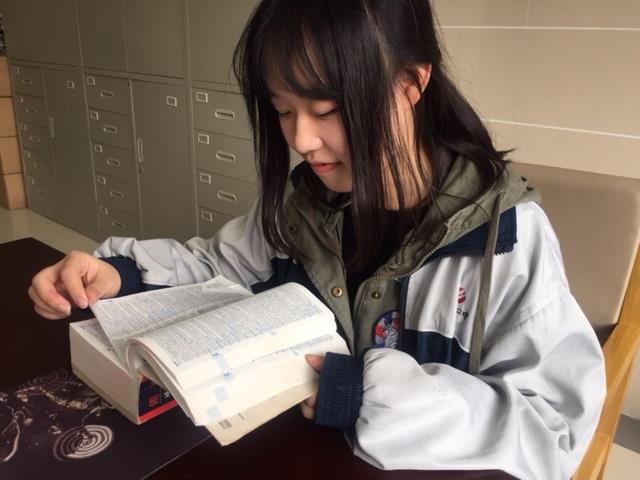 Despite the high pressure of the competition, without hesitation, all three girls responded that they were glad to have participated. "When you see the questions that come from other countries, you can learn new things. When you do these questions with your friends, you can use teamwork, so you can feel happy because you are all doing the questions together as a team," said Cindy. Becky agreed. "I think this was an opportunity to get used to the American or other country's test and try to see how difficult these kinds of questions are and get used to them."
The Chemistry Challenge motivated the St. Mary's students to keep learning and preparing for science in the future. Next semester as 11th graders, the girls will take Chemistry and have the opportunity to take Honors Chemistry.
"This was a good experience for me. From when you set-up your team to when you participate in the competition, you will feel a little proud of yourself," said Megan. The teachers and staff at the Wuhan St. Mary's campus were very proud to give the students their certificates and awards and are encouraged to see students continuing to challenge themselves academically.
Congratulations Becky, Cindy, and Megan!
Want to join our inspiring community of educators teaching on our global campuses? Check out our KL career opportunities today!