Recognizing the invaluable diversity and perspective that international exchange students bring to classrooms, K-12 schools around the US are expanding their global initiatives. New Garden Friends School (NGFS) in Greensboro, NC is no exception.
Thanks to a KL International Exchange partnership that began in 2016, NGFS welcomed 36 middle-school students and 6 teachers from No. 9 Middle School in Zhuhai, China for a week of cultural and educational exchange for the second year in a row. "As a Friends School community, we embrace diversity in all of its dimensions, and are excited to welcome our new Friends from China," said Lore W. Fariss, Director of Advancement at NGFS, on the day the students arrived. "We hope that our partnership is just the beginning of a long relationship with Zhuhai No. 9." At KL, we are thrilled to create these connections and ensure their success. How do we do that? By pouring our heart and soul into making sure the experience is life-changing for everyone involved.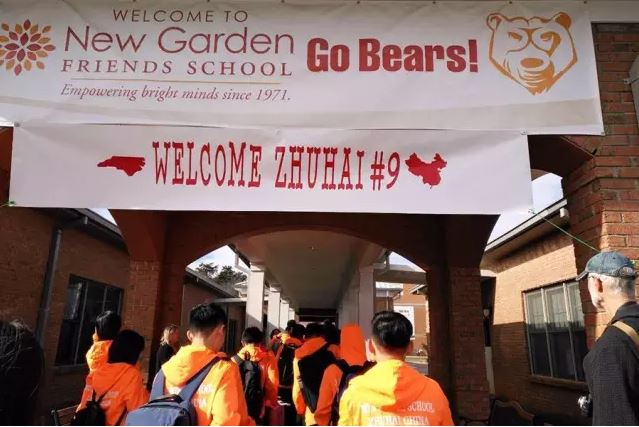 Reason #1: Global Awareness Facilitates Relationship Building
When you see the transformation of the students over the course of the exchange program, you understand that the week is much more than just a cultural experience for the students and host families. "We focus on developing student independence and fostering cross-cultural collaboration," says KL Director Peter Gangemi. "Experiencing life and education in another country can only enhance students' personal growth." In fact, Zhuhai students who arrived in Greensboro shy and hesitant, left their sister school relaxed, confident, and in many cases quite sad to say goodbye. It was a true testimony to the encouragement and warmth of the host families in Greensboro that there were many tears on departure day. The relationship-building that happens before, during, and long after a KL Exchange program ends is one of the things that makes the experience so special, providing educators, students, and host families countless opportunities to learn from one another.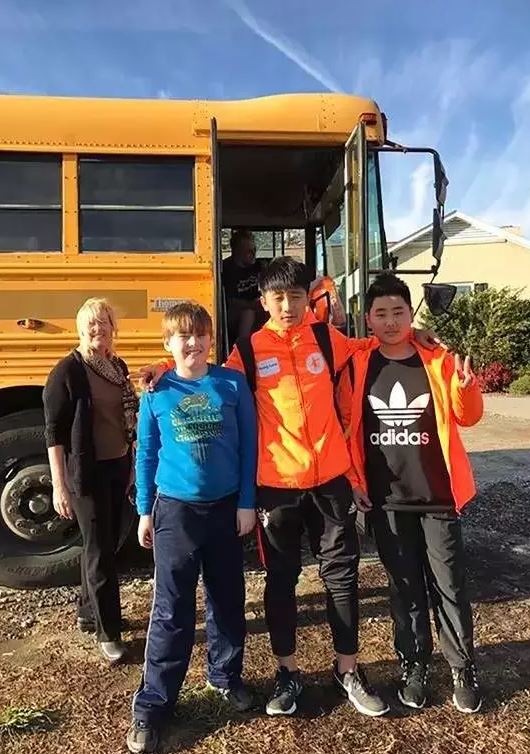 NGFS Board Member Nick Purrington had such a wonderful experience hosting students in 2016 that he travelled to China that summer for a reunion with them. After hosting students again this year, Nick made a second summer trip back to China, this time with Head of School Kim Freedman, to reconnect with each student and invite several to return to NC to attend high school at NGFS. "I was eager to see our Zhuhai friends at their school," said Ms. Freedman. "They have been such wonderful visitors, I expected that their school was a very special place and I was not disappointed. The principal and teachers clearly care deeply about their students and they are dedicated to creating an environment that encourages students to do their best work. Even though our schools are separated by many miles, we have so much in common; we all work hard for the sake of our students. The graciousness, pride, and joy of the principal, teachers, parents and students was something I will never forget!"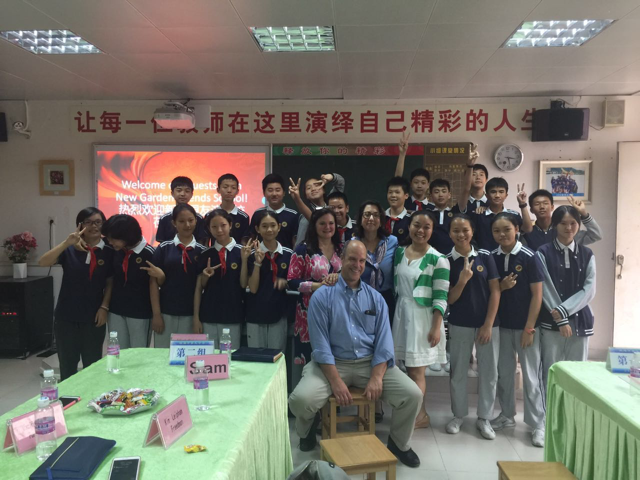 Reason #2: A Mission-Driven Program Fuels Creativity
Being the second year of the sister-exchange, KL collaborated with both NGFS and Zhuhai No. 9 to enrich and build upon last year's program. Similar international exchange programs mimic the same experiential "shadow" curriculum year after year, but KL strives to create something unique each time it brings international students together with American students. By brainstorming the academic projects the students were currently working on in their respective schools, we collectively designed activities that enriched the curriculum and overall experience for everyone involved. For example, Zhuhai No. 9 had been studying the environment and the effects of recycling on China's heavy air pollution. With pre-work required in advance of the exchange program, such as research and "on the street" interviews, all students came to the program armed with content and meaningful contributions with which to collaborate further. Their creativity was astounding. The video and slideshow presentation they designed to close out their week together was proof that when students from around the world are given the space to do meaningful work together, they begin to understand that they face many of the same issues – that they are far more alike than different.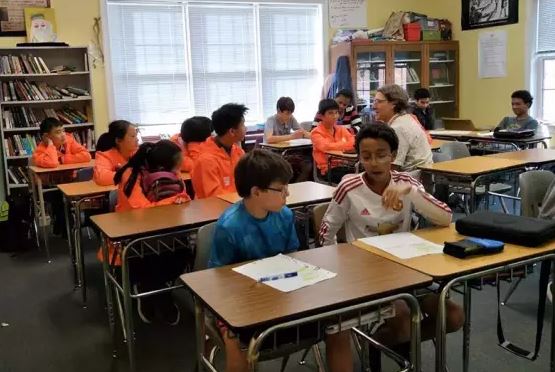 The group participated in outings and activities that emphasized just such cultural similarities and connections. During a trip to the planetarium, the students celebrated our interconnected world with a reminder that different cultures all share the same sky. On Community Service Day, the students visited a greyhound rescue center and learned the power of volunteerism. And because the environment was a central academic theme, our trip to a Recycling Center was a perfect segue to the students' end-of-week presentations. On their final day, the Zhuhai students made beautiful parting gifts for their host families: "papercuts" of the Chinese symbol for Spring.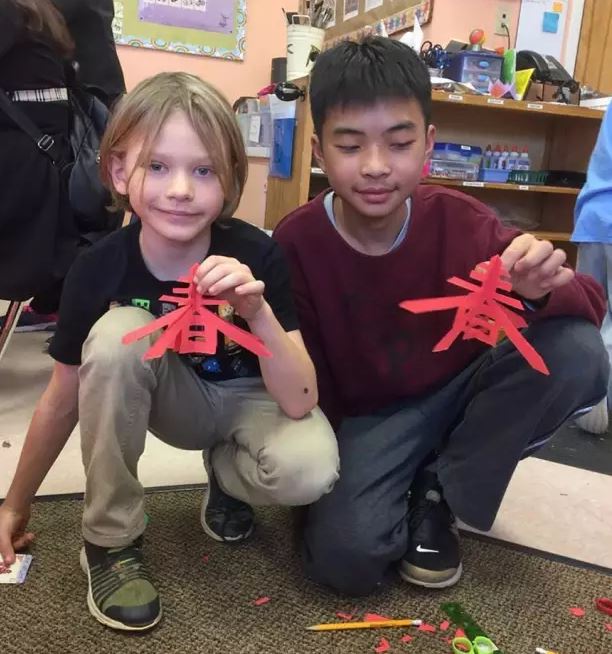 Reason #3: Meaningful Touchpoints Plant Seeds for Global Citizenry
A particularly wonderful moment in the NGFS/ Zhuhai No. 9 exchange week was Worship. A monthly event, the hour-long activity brought together both upper and lower schools but not how you might think. Because NGFS celebrates all religions, they view Worship as an opportunity to come together and share stories of global love and harmony. On this particular day in January, Ms. Freedman used Martin Luther King, Jr. (MLK) Day as a focal point, opening a discussion on how every student can make a difference in the world. For the students from China, where life (as they remarked) "moves very fast", they appreciated having the opportunity to stop and reflect on what they believe and how they can make a difference. "It is rare in Chinese culture to stop your daily work to ponder what life means. It is easy to get lost in the day-to-day routine and never stop to listen to your heart," says KL Program Consultant Winona Chen. "This school-wide event is an opportunity to plant seeds in children as young as Kindergarten age, to inspire them to appreciate different cultures, and to help them grow into global citizens."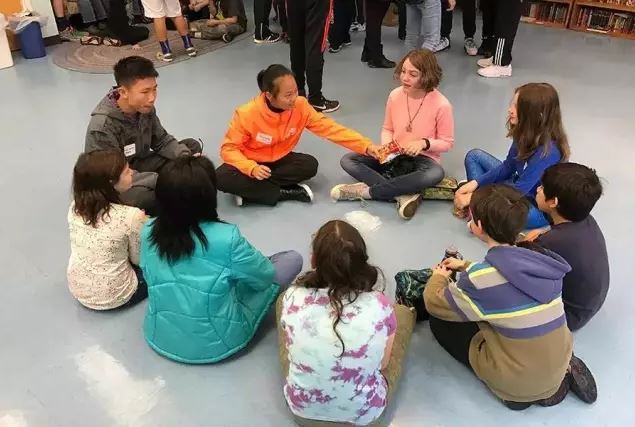 In line with our mission, the entire program was culturally enriching, academically challenging, and offered everyone involved an unforgettable week filled with learning and sharing. According to NGFS, the host families are still talking about the wonderful time they had with the students, and many are still in touch, continuing the friendships from across the globe. Without a doubt, school partners like NGFS make all the difference. "Our partnership with Zhuhai began as a program to provide a cultural exchange between groups of students, but it has blossomed into so much more," says Kim Freedman. "The NGFS/ Zhuhai No. 9 KL Exchange program has provided a way for strangers to become trusted and cherished friends. Our collective future depends on encouraging tomorrow's leaders to learn from each other, collaborate with each other, and together find cooperative solutions to global challenges. This kind of work is only possible within a context of friendship; we are grateful that our friends from Zhuhai also view international exchanges as an educational imperative and we are looking forward to their third visit this year!"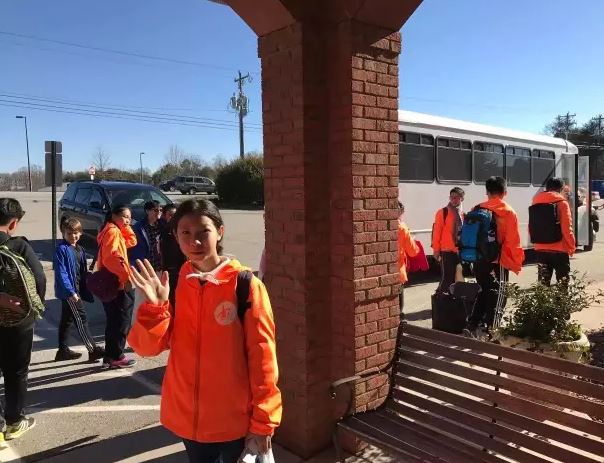 Learn more about our outcomes-driven International Youth Exchange Programs that can give your school community a powerful advantage while helping students realize their dream of studying abroad.